As Business Owner, are you stressed by?
Frequent paucity of business funds.
Hazardously plateauing cash flow.
Overscheduled commitments.
Sore client-employee relationship.
Fast decline of personal relationships.
Then, these stressors are strong enough to afflict Entrepreneurial Burnout.
They invariably lead to:
Lack of passion for work.
Lack of motivation.
Dread for work.
Extreme fatigue.
Constrained decision-making.
Suffering for a prolonged duration is bound to create Entrepreneurial Burnout.
What Is Burnout?
Burnout is a medical disorder as a result of excessive and prolonged stress.
Coined in 1974 by Herbert Freudenberger, burnout refers to "a depletion or exhaustion of a person's physical or mental resources attributed to his or her prolonged, yet unsuccessful striving toward unrealistic expectations internally or externally derived."
There Are Two Main Types Of Burnout:
Circumstantial & Existential
The Circumstantial is the result of challenges in:
Workplace
Neglecting one's personal life
Not taking time off work
The Existential burnout struggle is with:
A loss of meaning in the job
Deteriorating relationships with colleagues and clients.
Lack of self-worth.
Psychologists Herbert Freudenberger and Gail North developed a 12-stage model of burnout to visualize its progression:
The compulsion to prove oneself – demonstrating worth obsessively.
Working hard – with an inability to switch off.
Neglecting basic needs – lack of sleep, lack of healthy eating, lack of social interaction.
Displacement of conflicts – problem is dismissed.
Revision of values – values are skewed, friends and family dismissed, hobbies irrelevant.
Denial of emerging problems – intolerance, perceiving collaborators as stupid, cynicism, aggression, problems are viewed as caused by work.
Withdrawal – social life small or non-existent, hard social contacts.
Odd behavioral changes – changes in behavior obvious to friends and family.
Depersonalization – seeing neither self nor others as valuable.
Inner emptiness – feeling empty inside.
Depression – feeling lost, exhausted and the future feels bleak and dark.
Burnout syndrome – includes mental and physical collapse; medical attention is required.
Prime Reasons For Entrepreneurial Burnout
Failure to delegate tasks.
Avoiding work-life balance.
Skipping meals.
Setting unrealistic goals.
Trouble in maintaining a distinction between "on time" and 'off-time".
Denial of burnout signals.
Losing perspective.
Excuses for procrastination.
Everything is irritating.
Exploring burnout signals.
The Top Six Signs Of Burnout Include
Exhaustion
Chronic emotional and physical exhaustion is a sign that getting burned out.
Cynicism
If as an entrepreneur you are losing interest fast and having negative thoughts about work, that is a sure sign you are burning out.
Irritability
This implies being irritable and impatient, even at the smallest provocation.
Inefficacy
Burnout can leave you clueless about what you are doing for problem solutions or the creation of new ideas.
Depression
It might be time to take a look at your work-life balance and day-to-day stressors.
How To Avoid Burnout As An Entrepreneur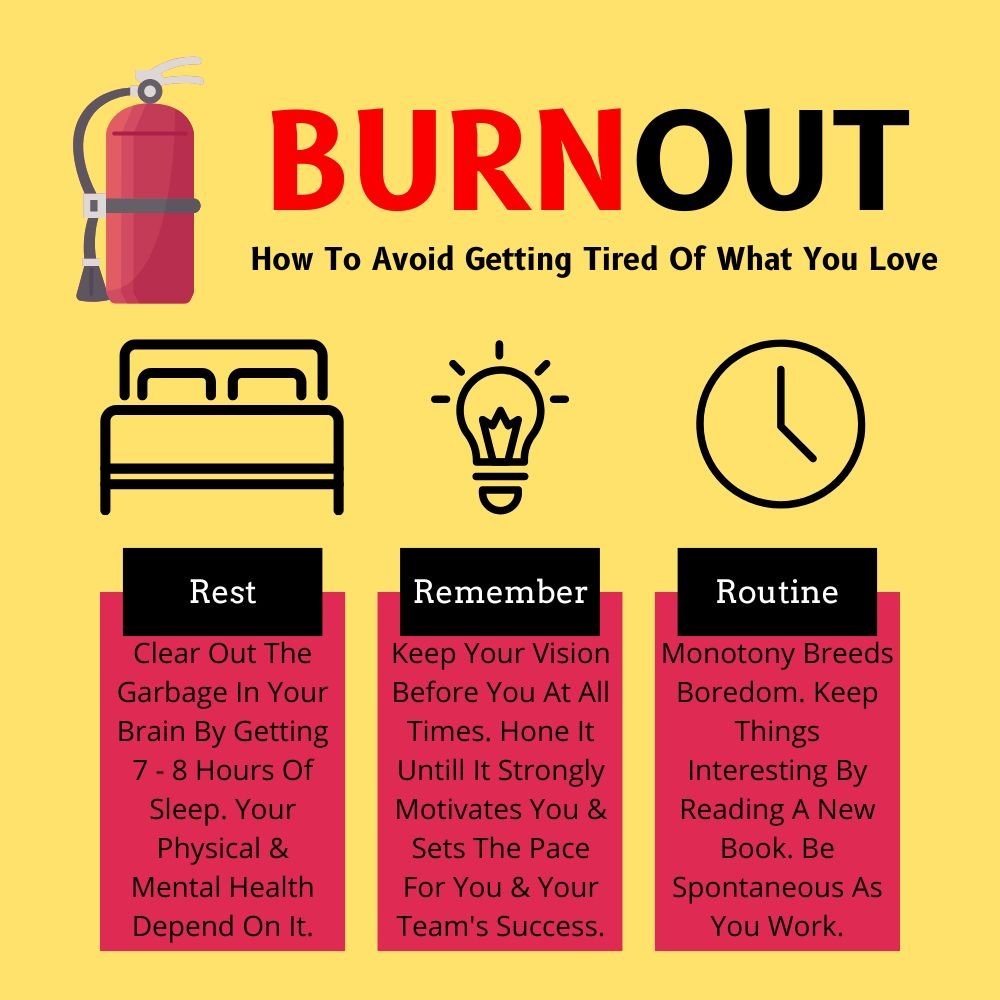 Burnout is prevalent in all industries and job roles. However, it especially applies to business owners and entrepreneurs whose business success relies on their productive capacity and depth of engagement.
How To Spot Entrepreneurial Burnout
You dread going to work consistently.
Your mood and personality have changed as per the version of others.
You are experiencing physical symptoms.
You always feel tired.
How To Spot Signs That You Are Experiencing Burnout
Mental Fog
Your mental sharpness is significantly reduced. You are prone to committing more mistakes in your work and can no longer accomplish mundane tasks.
Irritability
As stress becomes toxic, you are likely to become more irritated easily even over minor things. It will begin in the workplace. Eventually, it will spill over to home life or interaction with friends.
Frequent Sickness
It can directly impact your physical well-being and you could find yourself suffering from cold or flu even during the summer. You could feel sore and experience body aches on a regular or consistent basis. You may even get diagnosed with chronic conditions due to stress.
Unexplained Weight Gain
Even if you are eating healthy food and exercising, excess cortisol sends a signal that your body is at risk and should maintain your calories. The excess cortisol could increase your body's insulin levels causing a drop in blood sugar. As a result, your body will crave foods that are high in sugar or fats. This will help add extra pounds around the middle.
Ever-increasing Exhaustion shall render you helpless and mood less for any fruitful pursuit.
Increased forgetfulness
When you are burned out, your mind is clouded affecting your ability to remember things that would usually be top of mind.
Recognize The Signs Of Burnout
Take a vacation.
Be prepared for whatever comes your way.
Entrepreneurs usually experience post-traumatic stress disorder (PTSD) Hence, whether you have experienced
– A Major Financial Blow,
– An Unprecedented Time Of Crisis,
– Or Other Life-Changing Events.
It is important to recognize and reflect on what you have endured, without giving yourself the time and space to reflect, the weight of these burdens can pile up.
It is imperative to have a crisis management plan in place to see the light at the end of the tunnel.
With foresight, you can have faith in knowing you can take care of your team and your customers, and manage whatever comes next.
Manage your time in order to physically recharge.
Stay active and monitor your health.
Connect with the ones you love.
Celebrate holidays and milestones.
"The behaviors that manifest clinically — the consequences of burnout — can include:
Drinking or smoking to cope with stress.
Strained relationships where you are not nurturing your relationship with your spouse or your partner.
Loss of interest in things you once found enjoyable, and troubled sleeping."
Can You Recover From Burnout?
Fortunately, burnout is not beyond repair. One can fully recover if it is properly addressed and treated.
Lifestyle changes complimented by added support systems can help entrepreneurs recover faster.
How To Recover From Burnout While Working
When stepping away from the job that is causing stress may not be possible —— there are l tools entrepreneurs can deploy to fight their burnout:
Getting enough sleep.
Hiring people to help you with tasks that create boredom for you.
Reconnecting with your passions.
Spending more time with friends and family.
Spending time in nature.
Starting a group with other entrepreneurs.
Strengthening social relationships.
How To Combat Entrepreneurial Burnout
Here are some tips on how you can effectively avoid the different types of entrepreneurial burnout.
1. Tackle what worries you first
As an entrepreneur, identify the things that make you frustrated and why.
Find out your stressors and deal with them. For example, if it is the cash flow, then do something to ensure that it flows smoothly.
2. Surround yourself with motivation
Hire some multitalented people to your team. Delegate tasks to them- hiring the right people will help you get the job done with less supervision.
3. Heed red flags
It is essential for entrepreneurs to detect early warning signs of motivational fatigue. It can grow and snowball into more serious symptoms such as perpetual indecisiveness, rising dissatisfaction, and depression.
4. Network with other entrepreneurs
Join local groups or networks so that you can share your problems with others who may be experiencing the same situation as you.
5. Switch off
Too much social media puts you at risk of connectivity overload. It is important for you to disconnect from them from time to time.
6. Spend time for Self-introspection
Self-introspection can go a long way in preventing burnout.
Earmark some time to sit in silence and think about what would make things better. Introspecting can help you get the answers that no other mind tools can.
7. Catch some sleep
Lack of sleep can cause several physical and mental illnesses. After a hectic day full of meetings and paperwork, your body needs time to repair, restore, and relax. Not getting enough sleep can cause serious medical conditions such as high blood pressure and stroke.
8. Find an outlet
Instead of keeping stress or frustrations to yourself, look for an outlet to vent it all out in a healthy manner. Talk to someone -a friend, companion, or therapist so you can release all those emotions.
How To Avoid Burnout When Starting A New Business
Burnout can happen to anyone at any time, but it is especially common for entrepreneurs:
Here Are Eight Ideas For Avoiding Burnout When Starting A New Business
Delegate and divide up responsibility.
Set clear expectations.
Give people time off.
Plan a "Think Week" on your calendar.
Create opportunities for growth.
Respect people's personal lives.
Develop and lean on your network.
Find your outlet.
In Retrospect
Entrepreneurial Burnout is a serious problem confronting the business community. For its effective cure, it is imperative to understand its adverse effects in toto.
The first step to beating burnout is acknowledging its effects. Once you recognize that you are suffering from it, you can take some of the necessary steps to address it. That is how you can come back to your start-up with a level head, better than ever.
A successful entrepreneur must muster the right amount of energy and motivation. Total freedom from the shackles of fear and risk aversion is an absolute must!!
"Running a start-up is like chewing grass and staring into the abyss. After a while, you stay staring but the grass chewing never ends."

(Elon Musk)